H.H. 17th Karmapa Trinley Thaye Dorje and Lama Jigme Rinpoche's events in London
We are very fortunate that Lama Jigme Rinpoche will stay with us a little longer and will give teachings on Monday evening, after the empowerment and teachings by H.H. Karmapa in London at the weekend.
The teachings and empowerment are suitable for beginners to Buddhism as well as experienced practitioners.
Saturday 14th July – teachings on "The Four Immeasurables"
1pm doors for 3pm start
In Buddhist teachings, the development of love and compassion is the basis for all happy relationships – whether with friends, family or work colleagues. It is also the ground on which our wish to reach full enlightenment must be based, so that we may help to free all from suffering and reach a lasting state of happiness. The Four Immeasurables are a key Buddhist teaching expressing the love, compassion, sympathetic joy and equanimity needed to accomplish this goal. H.H. Karmapa, one of the greatest living Buddhist masters and head of the Karma Kagyu tradition of Tibetan Buddhism, is considered the living embodiment of the compassion of all the Buddhas. In this talk he will explain how everyone can use these qualities to benefit their day-to-day relationships and take steps towards enlightenment. All are welcome.
Sunday 15th July – empowerment of White Dzambhala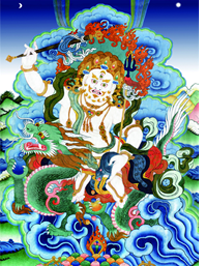 Doors open 12 noon and close at 2pm to allow the initiation to start on time
H.H. Karmapa will give the empowerment of White Dzambhala, the Buddha of Prosperity and Abundance. An empowerment is a ceremony that introduces a practitioner to the power-field of a certain buddha aspect. It is often given as a blessing to establish a bond between teacher and student and to purify obstacles on the way to enlightenment. The effectiveness of receiving an empowerment in developing one's awareness cannot be overestimated. Empowerments are given to those wishing to follow the Buddhist path, and as such, Buddhist refuge will be given by H.H. Karmapa in connection with the empowerment. Several empowerments (also called initiations) have been given by H.H. Karmapa in London previously, but this is the first time the empowerment of White Dzambala will have been given.
Monday 16 July – teachings by Lama Jigme Rinpoche
5pm doors for 7pm start
Lama Jigme Rinpoche will give teachings on the subject of "Being calm and effective – applying Buddhism in daily life". Rinpoche is a much-loved teacher and has taught to numerous groups of young people and businessmen in how to use practical methods and attitudes from Buddhism in daily life. Here he will use his life-long experience to offer some methods that everyone can use to live well. This will be the second time that Lama Jigme Rinpoche has taught publicly in London.
Tickets for events with H.H. Karmapa in London
Ticket sales are cash-only. You can also buy tickets online until 13:00 on Friday 13th July, to be collected at the event.
Ticket Prices:
Lectures: £16 (£12 concessions)
Empowerment of White Dzambala: £38 (£28 concessions)
For information about accommodation during the event, please see the Accommodation page.